Each year the club runs 2 fell races on the FRA Calendar –  Carrock Fell Race and Fellside Fell Race.
Carrock Fell Race – Sunday 19th March 2017

Date and Time: Sunday 19th march 2017, 11 am
Race Report 2017
105 hardy fell runners turned up to run the 2017 Carrock Fell race in atrocious weather conditions. Heavy rain fall overnight meant that the river was in full flood and dangerous to cross. The start of the race had to be flagged to the bridge at ford in accordance with the risk assessment plan. This small diversion, plus the 60mph winds, horizontal rain, and very wet conditions under foot meant that times were predicted to be slower than the previous year.
Carl Bell and Sam Stead (Keswick AC) had a battle for first place, with Sam Stead in the lead on the West Fell traverse path, with Carl over taking him very near the end of the race on the steep descent route. Carl took first position by just 2 seconds with a finishing time of 48m48s.
Mario Yeomans and Phil Archer had a hard battle for their club's champs points position with just 10 seconds separating them.
First Female was Karen Bridge of Eden Fell runners, who was also first V40 in 1hr5m53s. She was closely followed by Catherine Evans of Keswick AC, who was first Open Female.
Three new course records were set, with Michael Mallen (Keswick AC) setting a new V60 record in 1hr2m33s. Aiofe Smith (Gateshead Harriers) setting a new UF23 record in 1hr11m27s, closely followed by UF23 Jenn Bradley (CFR), with only 3 seconds between them. Lesley Malarkey (Keswick AC) set the FV60 female record in 1hr25m49s.
Most of the front runners took a clear direct line down West Fell, but the descent line on West Fell became more interesting with runners spread out and coming in from all directions by the end of the pack. Marshals reported that runners were coming at High Pike from all directions clutching maps and compasses in the mist.
The club had great feedback from runners after the race, who very much appreciated a dry hay barn for shelter, hot drinks and a huge selection of home made cakes made by the Northern Fells Running Club's loyal support crew. Thanks to King Kong Adventures Keswick for help with discount on prize vouchers.
Records:
Male: R Lightfoot – 00:37:39 – 2016
Female: H Dent – 00:45:00 – 2016
Results
2017 Results: https://www.dropbox.com/s/f3fk1tjf163w2wi/Carrock2017resultsfinal.xlsx?dl=0

2016 Results: http://www.fellrunner.org.uk/results.php?id=3156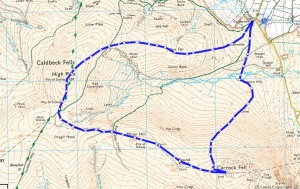 Fellside Fell Race – Wednesday 26th July 2017

52 runners took part in the 2017 Fellside race. It was a club champs race for Keswick AC. Mark Lamb went out fast and was in the lead until High Pike with a clear margin on Karl Bell, but Mark took a wrong line down off High Pike giving Karl a chance to take the lead. Karl won in 53:15 mins, just 2 minutes off the course record. First lady was Jenn Mattinson of Keswick AC with a time of 1:07:47. A link to photos can be found here https://www.dropbox.com/s/75gdg28xpwlak4q/Photo%2026-07-2017%2C%2019%2020%2019.jpg?dl=0
Results:
2016 Results: http://fellrunner.org.uk/results.php?id=3601
2017 Results: http://www.fellrunner.org.uk/results.php?id=4324