Each year the club runs 2 fell races on the FRA Calendar –  Carrock Fell Race and Fellside Fell Race.
Carrock Fell Race – Sunday 18th March 2018 (rescheduled to 25/3/18)

Date and Time: Sunday 18th march 2018, 11 am
Category: AS
Distance: 9km / 5.6m
Climb: 500m / 1640ft
Grid ref: NY345358
Minimum age: 16
Entry fee: £4, entry on the day only.
Race details;
Start NY345358
Checkpoint 1 -Carrock Fell
Checkpoint 2 -High Pike
Finish NY34535
Parking at Calebreck car park, along fell road, or in a marked field if conditions permit.
Records:
Male: R Lightfoot – 00:37:39 – 2016
Female: H Dent – 00:45:00 – 2016
Results
2018 Results: http://fellrunner.org.uk/results/race18/18_Carrock.pdf
2017 Results: https://www.dropbox.com/s/f3fk1tjf163w2wi/Carrock2017resultsfinal.xlsx?dl=0

2016 Results: http://www.fellrunner.org.uk/results.php?id=3156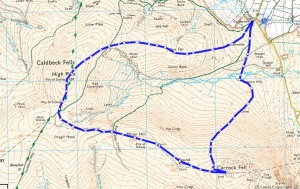 Fellside Fell Race – Wednesday 25th July 2018, 7pm

Category: AM
Distance: 11.3km / 7m
Climb: 580m / 1903ft
Venue: Fellside Village
Grid ref: GR 035373
Skills & experience: ER, LK, NS
Minimum age: 18
Entry fee: £4, entry on the day only
Start: Fellside gate GR035373
Checkpoint 1: Brae Fell
Checkpoint 2: Knott
Checkpoint 3: High Pike
Finish: Fellside gate GR035373
Parking at Fellside carpark or in signed posted field.
Results:
2016 Results: http://fellrunner.org.uk/results.php?id=3601
2017 Results: http://www.fellrunner.org.uk/results.php?id=4324